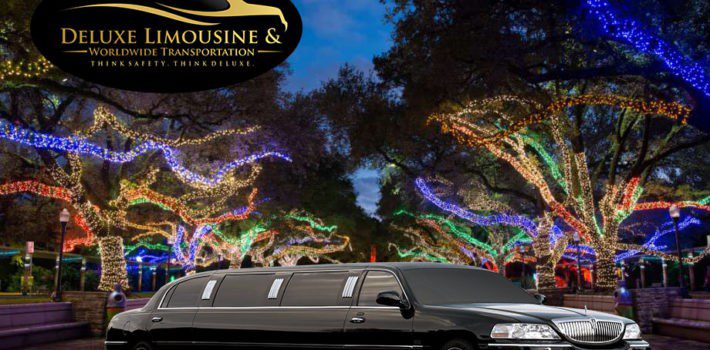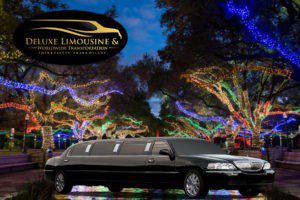 Houston has made a name for itself in many respects: bustling city, sports hub and even coastal destination. However, it is much lesser known for its holiday offerings. This is unfortunate, as Christmas brings many delights to Space City. Deluxe Limousine likes to help visitors discover this unique aspect of the Houston area, including The Woodlands, Tomball, Spring and surrounding areas, with our holiday limousine services offered throughout the area. Journey with us in luxury as we introduce you to the city's most mesmerizing lights, shows and events.
It all starts at the mayor's hall, where Houston offers a tree lighting ceremony that rivals the experience of Rockefeller Square. Santa himself shows up to greet children and brighten the mood. Even if you don't make it in time for the ceremony, you'll still enjoy the beautiful lights set against our majestic cityscape. And best of all, you'll enjoy it from the comfort of one of our luxurious and stylish limousines.
Our Houston holiday lights limo tour service will then bring you to one of several other destinations for exuberant Christmas light displays. Take the Magical Winter Lights at Gulf Greyhound Park as an example, where the trees seem to take on a glow of their own. You'll find vendors offering tasty snacks and unique souvenirs along the way. Don't worry about going a little crazy; our limousines offer plenty of cargo room for your trip.
Then there's River Oaks Park, where a quick drive brings you up close with large, beautifully shaped oak trees adorned in festive lights. You'll even find strands draped from the branches artfully resembling snowfall (a rare site in Houston for sure). Sometimes, the roads here can get a little crowded. But with the many amenities offered in our limousine, complimented by the beauty just outside, we promise you won't be disappointed.
So, just what are these amenities? Imagine enjoying Houston's most vibrant holiday lights as your favorite Christmas tunes play over a premium stereo system. Then, picture enjoying some of your favorite holiday cookies and appetizers, only to wash it down with rich hot chocolate or traditional eggnog. And all the while, you're surrounded by beautiful decor celebrating the season both in and out of your ride. With Deluxe Limousine & Transportation's holiday limo service, you won't have to imagine; we'll make it a reality.
But don't let that stop you from getting out and enjoying the sites up close. We're happy to wait while you explore! Feel free to take a stroll through the park or enjoy a spontaneous show. In fact, unlimited stops are offered with all of our Houston limousine services. Needless to say, we'll be happily waiting when you get back.
Of course, while Deluxe Limousine & Transportation does offer family-friendly holiday limousine tours, we also understand that Houston's nightlife doesn't end during the holidays. In fact, some would argue that Christmas is when it really comes to life. You'll find clubs and bars offering your favorite traditional and seasonal beverages on tap. Houston's venues also offer a variety of holiday favorites on stage, whether it's a theatrical performance or celebrated musicians. We want you to enjoy everything our city's premiere clubs and bars have to offer this holiday season, which is why we offer safe and reliable transportation for all of your nightlife adventures.
We've only mentioned a few of the many holiday sites and experiences awaiting you in our city. The best part of our holiday limousine services in Houston is that your trip can be customized to visit the sites you find most appealing. If you'd like to book your trip, or find a little help planning, our Houston travel professionals are ready to help. We book fast during the holidays, so gives us a call today!